Automatic Identification Systems (AIS) are a technology developed to communicate vessel information between vessels and from vessels to coastal authorities on a continuous and automatic basis. Messages communicated via AIS include details such as vessel positions as well as various vessel status reports, all of which defined within the AIS specification. These messages are transmitted freely, and can be interpreted (and stored) by commercially available AIS transponders.
The historical data made available by exactEarth (now spire global) and through a MERIDIAN collaboration, includes AIS ship reports over the North American region (Can-US-Mex EEZ), and represents a valuable resource in describing the movements and patterns of marine vessels.
---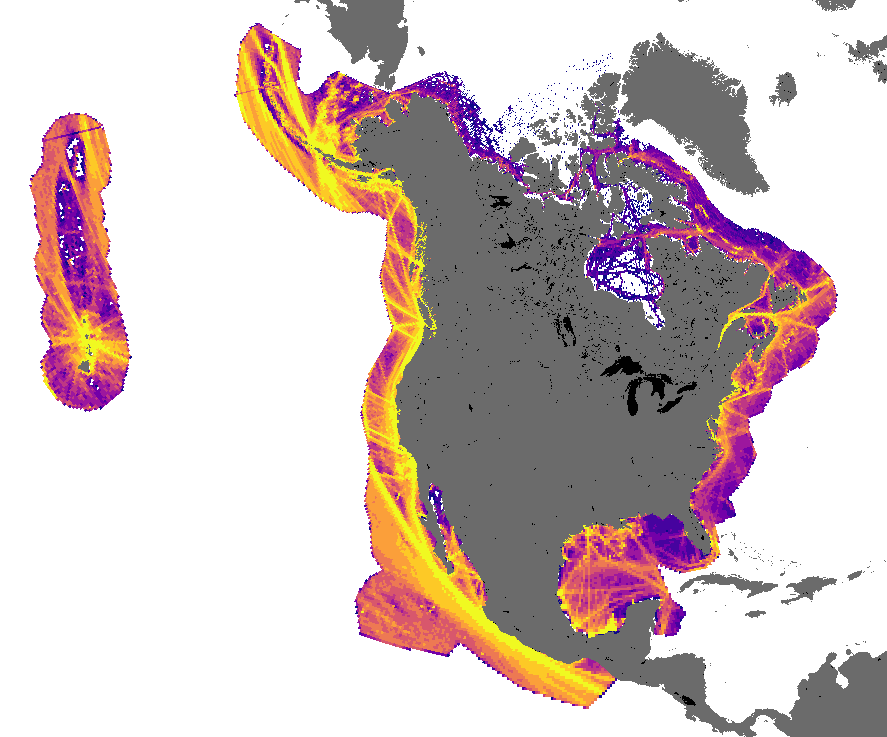 MERIDIAN is pleased to announce that, in partnership with exactEarth Ltd. (now spire global), a large portion of the historical exactAIS Archive® data are now available. A total of 12 licenses for data access are accessible to MERIDIAN collaborators through application and allocated on a first-come-first-served basis.
The data that have been made available range from January 2013 to current, with new data being provided monthly until December 2020. The data files are provided in the raw, unparsed NM4 format, as well as in CSV format.
In addition to facilitating the preparation of subsets of the overarching data as necessary, facility exists to develop some derived products (e.g. GIS layers) from the dataset. This service is available to assist applications from groups which may not have the expertise or resources available to process or utilize the data in its raw form. General advice on making use of the AIS data is also available, in advance of applications for further access in order to enable appropriate scoping of requests.
Eligibility
Collaborators with MERIDIAN are invited to apply on behalf of their group. Data use is limited to non-commercial collaborations with the MERIDIAN Research and Development program and data may not be used or shared with any other organizations or third parties.
Application
If you are interested in collaborating with us, MERIDIAN, and can make use of one of our AIS data licenses, we would like to invite you to apply for access. Due to the limited number of available licenses, preference will be given to projects that make significant and/or novel use of the AIS data. Additionally, attention will be given to projects where the AIS data can meet needs that would otherwise remain unsatisfied via other alternative data sources.
Review and Notification Process
The Data Manager and Senior Data Analyst will review all applications. Applicants will be notified of the review outcome by email; the goal is to have responses to all applications within a month.
Please include a detailed description of the temporal and spatial scope of AIS data required as well as the expected impact of the data resource on the overall results of the project.
---